Future Mission Bay 'Staycation' Spot in the Works
Posted: November 13, 2015
After a series of iterations, plans for the 250-room hotel in San Francisco's Mission Bay are shaping up, and the project is now slated to break ground in the second quarter of 2016.
At a meeting for the Mission Bay Citizens Advisory Committee Thursday night, members approved the most recent plans for the hotel, which include a proposed art program and exterior night lighting of the hotel. Developer SOMA Hotel LLC revealed that the operator for the hotel will be Marriott (NASDAQ: MAR).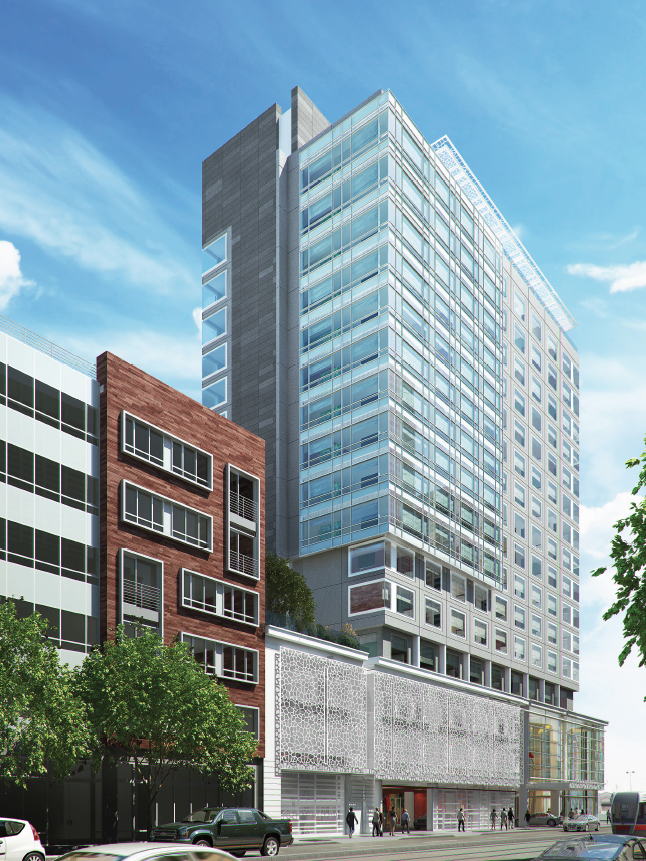 The hotel, which will land at the corner of Third and Channel streets, will include a "community living room" on the ground floor — a 700-square-foot public space where people can "come in and have coffee and enjoy artwork," said the architect behind the project, Mark Hornberger of Hornberger + Worstell.
There will be another public space at the rooftop of the hotel, which will include a glass-enclosed rooftop bar and cafe area, as well as a paved, uncovered space. Hornberger is also working with interior design firm Aubrey Maxwell to install local public art in various spaces of the hotel. The hotel will also have 10,000 square-feet of meeting space.
Mission Bay residents at Thursday's meeting were particularly excited about the public space.
"There is no rooftop access at that height anywhere else in Mission Bay," Hornberger said in an interview with the Business Times.
The development team behind the hotel, SOMA Hotel LLC, is an affiliate of the Stanford Hotels Group. It said it's also exploring options for a tenant for the ground-floor restaurant of the hotel. It will likely be an independent restaurateur, although it could be run by Marriott, said Todd Motoyama of SOMA Hotels.